!--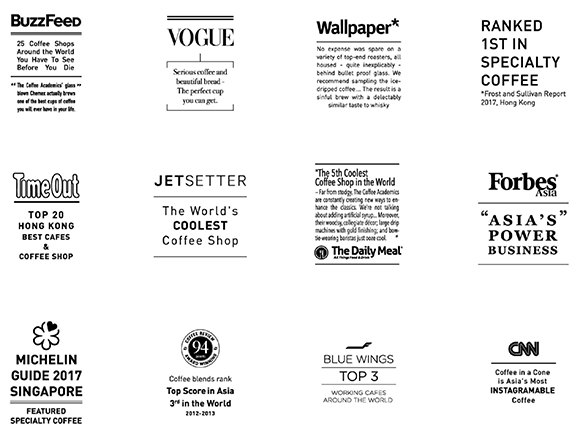 -->
ROASTERY | RETAIL | EDUCATION
OUR BRAND
Since its inauguration in 2012, The Coffee Academïcs has been setting the standards in coffee quality and exceptional coffee experiences. Taking specialty coffee culture to new heights in the region, we have expanded our coffee hub to include Singapore , Thailand, Mainland China, Macau, Philippines, Japan and Qatar, with more partnerships and retail footprint underway. The Coffee Academïcs brews its unique brand of local experiences with global impact.

According to Frost and Sullivan, The Coffee Academïcs ranked 1st in specialty coffee in 2017, Hong Kong, establishing itself as the leading specialty coffee player in the city.

By definition, specialty coffee falls within the top 5% of the best arabica beans with a grade of 80 points and above. The Coffee Academïcs offers a selection of award-winning blends, with a rating of 92-points and 93-points for its House Blend and JWF Blend respectively, receiving the top score in Asia and ranked 3rd in the world (2012-2015).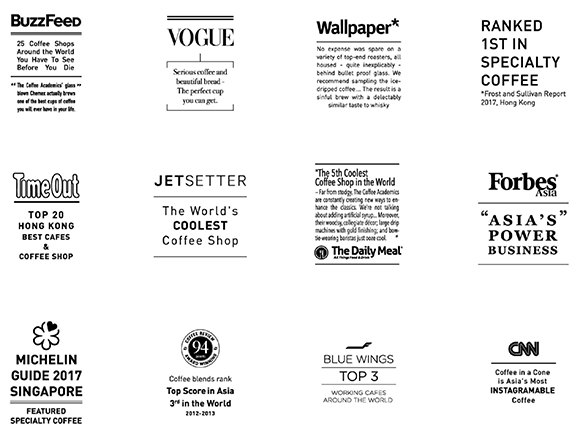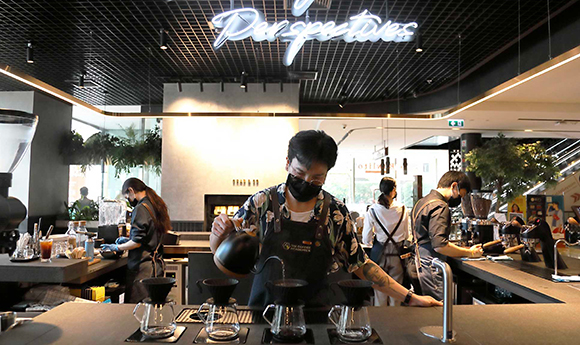 !--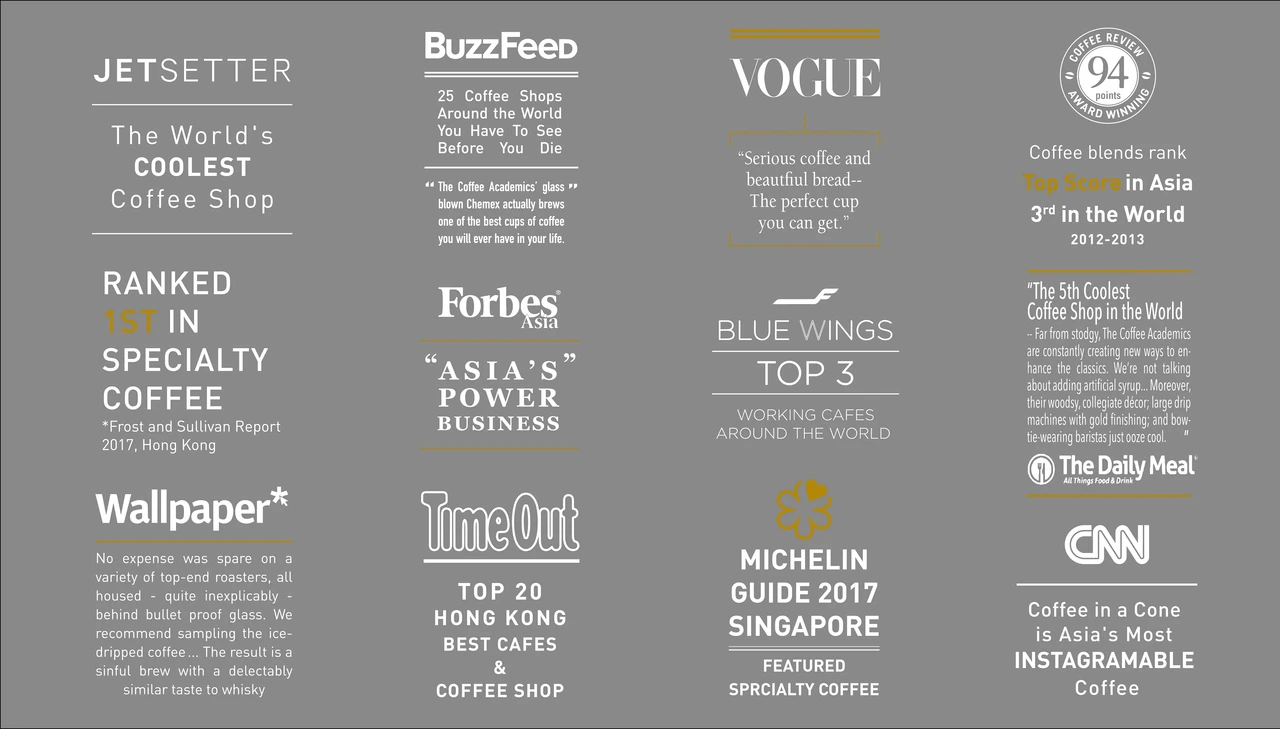 -->
The Coffee Academïcs has been a proud recipient of many important international awards and accolades in the coffee industry and beyond. We are widely recognised in our mission as a specialty coffee roaster and purveyor in Asia and beyond. These include the following:
Top 3 working cafes around the world under "Top 10 For Coffee Life" by Blue Wings, Finnair
Ranked 1st in specialty coffee in 2017, Hong Kong by the Frost and Sullivan report
92-points and 93-points for our House Blend and JWF Blend respectively, receiving the top score in Asia and ranked 3rd in the world (2012-2015)
Asia Miles Members' Choice Award - Favourite Restaurant in Hong Kong 2019
RASV Australia International Coffee Award - Silver Medal 2020
Hong Kong Dining Award - The Best Coffee Shop 2020
Members of our esteemed coffee team and roasters are also regular award-winners in many significant international barista, roasting, cupping, and latte art championships. They deliver quality coffee beans to our many coffee shops and supply unique coffee blends to our numerous business partners around Hong Kong and internationally.
---
RETAIL
With a strong focus on customer experience, The Coffee Academïcs has curated unique sensory playgrounds for coffee aficionados in the region; exceptional attention is paid to both interior design and coffee presentation. Each of The Coffee Academïcs store presents a distinct personality, curated to seamlessly integrate with the charm and vivacious essence of the surrounding neighbourhood while aesthetically standing out. This shines through our carefully curated music playlist, reading materials, homely yet eclectically stylish decor and state-of-the-art coffee machines and brewing equipment.
ROASTERY
We recognise that what has been missing in this age of consumerism is the rediscovery and recognition of the local communities, precious soils, and countless pairs of hands behind each cup of coffee. That is why, at The Coffee Academïcs, every part of its business aim to shed light on the forgotten stories of coffee farmers and its coffees' origins while delivering an elevated coffeehouse experience.

Our award-winning roasting team ensures that all our coffee is either direct traded from unique small-scale plantations or auction-grade coffees. From onsite roasting to meticulous cupping, every drop of our coffee speaks of our interpretation of the perfect brew. 70% of our most popular House Blend gives back to coffee farmer communities through charities and social enterprises worldwide.
---
EDUCATION
The Coffee Academïcs has invested continuously in barista training as well as top-of-the-line brewing equipment. It is known for its comprehensive coffee training programs for both professional and hobbyist purposes.

With an enthusiasm for establishing a stronger coffee culture and community in Asia, The Coffee Academïcs extends its training services from internal teams to customers at large, providing workshops and events led by qualified coffee instructors as well as internationally recognized certification programmes to the public.

Our coffee workshops include in-house coffee appreciation classes, Specialty Coffee Association SCA-Certified or Q-Grader courses, and Cup of Excellence cupping sessions.