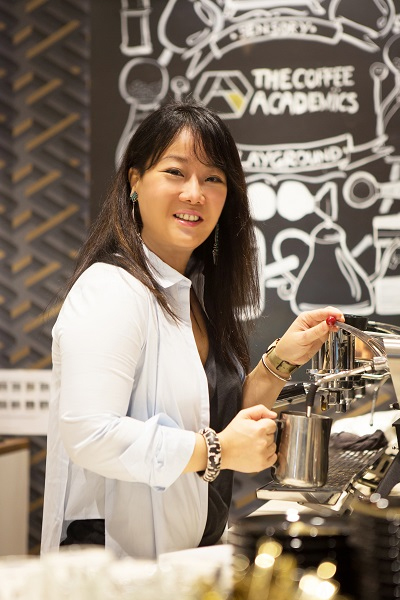 OUR FOUNDER
Jennifer Wai Fun Liu
Founder & Chairwoman

A well-established female entrepreneur, Jennifer W. F. Liu is the Brainchild, Artistic Creator, and Founder of The Coffee Academïcs, a boutique, privately funded specialty coffee lifestyle company that was founded in Hong Kong, then later expanded to Singapore, Mainland China, Thailand, and, soon, Japan, Philippines, and others.

For Jennifer, the love of coffee started at a young age through Sunday brunch with Dad. Graduating at Cornell University with a Bachelor's Degree in Architecture, Jennifer's heart remained close to Hong Kong and chose to return. A well travelled globe trotter with a deep commitment to bringing all cultures, lifestyles and new ideas through coffee and the arts, led to the eventual birth of The Coffee Academïcs.


A serial global entrepreneur with an expansive perspective and a stylish eye for detail, Jennifer is extremely accomplished in the architecture of a range of tenacious businesses and characteristic lifestyle brands. The fruition to her vision, creativity and hard work is evident and ubiquitous in Hong Kong and the rest of Asia alike.

By definition, specialty coffee falls within the top 5% of the best Arabica beans with a grade of 80 points and above. The Coffee Academïcs is proud to offer a selection of award-winning blends, with a rating of 92-points and 93-points for its TCA House Blend and JWF Blend respectively, hence receiving the top score in Asia and ranked 3rd in the world (2012-2015).

According to Frost and Sullivan, The Coffee Academïcs ranked first in specialty coffee in 2017, Hong Kong.
Achievements
Throughout the years, Jennifer's achievements were continually recognized by numerous prestigious awards.

Named 25 Forbes' Asia Power Businesswomen of 2019, other recognitions include South China Morning Post "25 Women of our Time 2012"; Perspective Magazine "40 under 40" in 2012; CEO Magazine "Best Hospitality Group of Hong Kong 2013"; City Magazine "18 Notable Women in Social Business 2014"; Capital Magazine "CEO of the Year" in both 2007 & 2014.

In recent years, Jennifer was also awarded the esteemed "Piaget Award for Excellence of Entrepreneurship" in 2015; "Most Outstanding Women of Hong Kong" by the Women Development Association of Hong Kong in 2016; Gafencu Magazine "Hospitality Most Excellent Award" in 2016; Jessica Magazine "Most Successful Women 2017"; "Top 50 Innovative Retail Leaders in Hong Kong 2017 and 2018" by Inside Retail; Gafencu Magazine "The 300 Most Powerful People in Hong Kong 2017"; listed on Tatler Hong Kong's 500 Most Influential in 2019; and awarded the GBA Outstanding Women Entrepreneur Award of 2019.

A confident and inspiring speaker, Jennifer is widely sought-after to give talks, interviews and special appearances by notable and influential publications, media platforms and organizations, including but not limited to CNBC, BBC, Bloomberg, TEDx, Google-EYE, American Chamber of Commerce, Asia Society Hong Kong, InvestHK, StartmeupHK, Rotary Club, World Social Summit, HK Social Summit, Keynote speaker at the Women Foundation 2015, Forbes Conference Singapore 2017 and 2019, MIPIM 2018, GS1 Tech Summit, and a speaker at the Allegra World Coffee Portal in New York.